VIDEOGRAPHIC ENTANGLEMENTS

Videographic Entanglements is an international network for interdisciplinary videographic research, supported by the University of Huddersfield. The core collaborators are currently Ben Spatz, Alan O'Leary, and Johannes Binotto.
Events:
• Videographic Entanglements Symposium (Huddersfield, Autumn 2023)
• Videographic Entanglements Study Day (Huddersfield, November 2022)
• Videographic Entanglements Workshop (Aarhus, February 2022)
The rest of this page includes information about previous exhibitions and events related to videographic and audiovisual research.
Image: from a video essay by Johannes Binotto.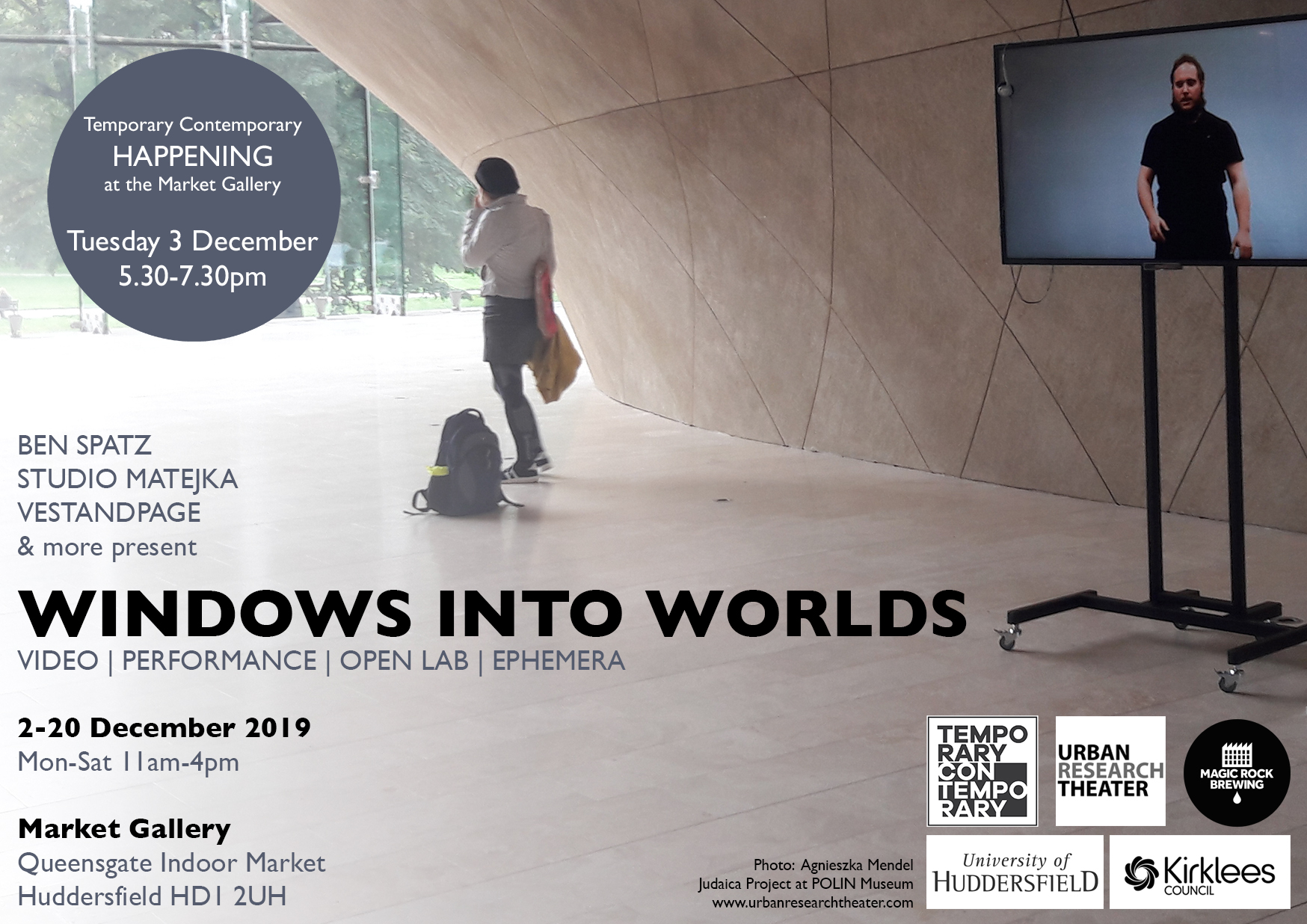 Windows into Worlds is an audiovisual exhibition and installation showcasing new connections between performing arts and digital video. It includes original artistic research from Dr Ben Spatz's Judaica project alongside contemporary performance-based films by VestAndPage (Germany) and Studio Matejka (Poland), as well as a growing network of performers exploring video lab methods. These videos run alongside an "Open Lab" where the public is invited to explore audiovisual creation.
The first iteration of Windows into Worlds ran from 2-20 December 2019 at the Temporary Contemporary Market Gallery in Queensgate Market, Huddersfield (UK), welcoming more than 200 visitors. There was an opening event with Odeya Nini on Tuesday 3rd and a featured artist talk with VestAndPage on campus on Wednesday 11th. This exhibition was supported by the School of Music, Humanities, and Media and the School of Art, Design and Architecture at University of Huddersfield.
Download the EXHIBITION PROGRAMME.
Windows into Worlds was developed in collaboration with Rowan Bailey (UK), Lxo Cohen (UK), Cara Hagan Gelber (USA), Claire Loussouarn (UK), and Elizabeth de Roza (Singapore). The following artists and practitioners have contributed video to the exhibition: DansPXL (Spain), Dark Horse Theatre (UK), Maria Donohue and Colin Frank (UK), Adam Hussain (UK), Ilona Krawczyk (UK), Intercultural Roots (UK), Make, DO Theatre (UK), Scott Mc Laughlin (UK), Parcon Resilience (USA), Dominique Rivoal and Adesola Akinleye (UK), Studio Matejka (Poland), Sweet Sensation (UK), Tatyana Tenebaum and Hadar Ahuvia (USA), ThreadBear Theater (UK), the MFA Acting at USC (USA), VestAndPage (Germany), Ann Wear (UK), and other visitors to the Open Lab.
The editorial algorithm for Screen 6 was programmed by Sam Roig Torrubiano.
Photos by Laura Mateescu.