The mission of Urban Research Theater is to forge new interdisciplinary, international, intersectional solidarities through critical embodied practice. Since 2004 it has served as an umbrella organization for artistic projects created by Ben Spatz and associates. Since 2017 it operates as a laboratory using a new audiovisual embodied research method.
Artistic Director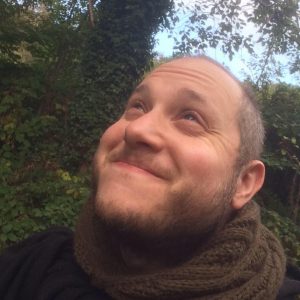 Ben Spatz is a nonbinary researcher and theorist of embodied practice. They are Reader in Media and Performance at University of Huddersfield (UK) and author of three books: What a Body Can Do (Routledge 2015), Blue Sky Body (Routledge 2020), and Making a Laboratory (Punctum 2020). Ben is founding editor of the videographic Journal of Embodied Researcher and a leader in the development of embodied research methods. Their work has been presented at more than thirty institutions in seventeen countries.
Current Associates
Nazlıhan Eda Erçin
Ilona Krawczyk
Francesca Placanica
Past Associates
Agnieszka Mendel (Judaica Project Team)
Sióbhán Harrison (Artistic Associate)
Jennifer Parkin, Artistic Associate (2014-2015)
Karoliina Sandström, Guest Artist (2014)
Susan Oetgen and Peter Sciscioli, Guest Artists (2013)
Margot Bassett, Guest Artist (2012-2013)
Massimiliano Balduzzi, Associate Director (2008-2012)
Malgosia Szkandera, Guest Artist (2011)
Michele Farbman, Artistic Associate (2006-2009)
Beata Zalewska and Izabela Mlynarz (2004-2005)
Ania Boratyn and Malgorzata Przedzak (2005)
Bartek Bulanda, Kasia Donner, Daniel Jastrzebski, Marek Konopczak, Monika Kuszewska, Barbara Pawlic, Szymon Struzik, and Izabela Walkowiak (2004)
---
SITE ARCHIVE
Urban Research Theater was founded in 2004 in Wroclaw, Poland, as 'Badawczy Teatr Miejski'. Since that time it has organized several hundred private and public events in the United States, United Kingdom, Poland, and elsewhere.
Previous phases of work can be traced back through 15 years of websites:
• Urban Research Theater 2016
• Urban Research Theater 2012
• Urban Research Theater 2009
• Urban Research Theater 2008
• Urban Research Theater 2007
• Urban Research Theater 2006
• junk river productions 2004
• junk river productions 2003