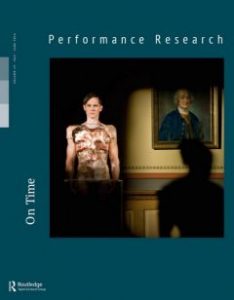 'What a Body Can do: A praxis session by Ben Spatz, Zihan Loo, Christine Germain, Donia Mounsef, Ira Murfin, Justin Zullo & Krista DeNio'. By Jasmine Mahmoud. Performance Research 19.3: 150-151.
A description of the 'What a Body Can Do' praxis session that took place on 29 June 2013 at Stanford University as part of Performance Studies International #19.
"Evening sunlight bathed a capacious wood-floored studio. The room's architecture permitted this preciously diminishing light, which came in through a seven-feet wide door frame on the western wall. This architecture also permitted an at-first unintelligible 10-minute transformation of the body. The audience sat inside the studio. Outside, coming from the left edge of the door frame, a nude, unidentifable body part appeared. After a few minutes, the body part became body whole as the nude figure slowly inched right from the frame's left edge…"
Another version of the WABCD praxis session was offered as a guest session in Maurya Wickstrom's 'New Performance' class at the College of Staten Island, CUNY. Click here to download the assignment sheet.