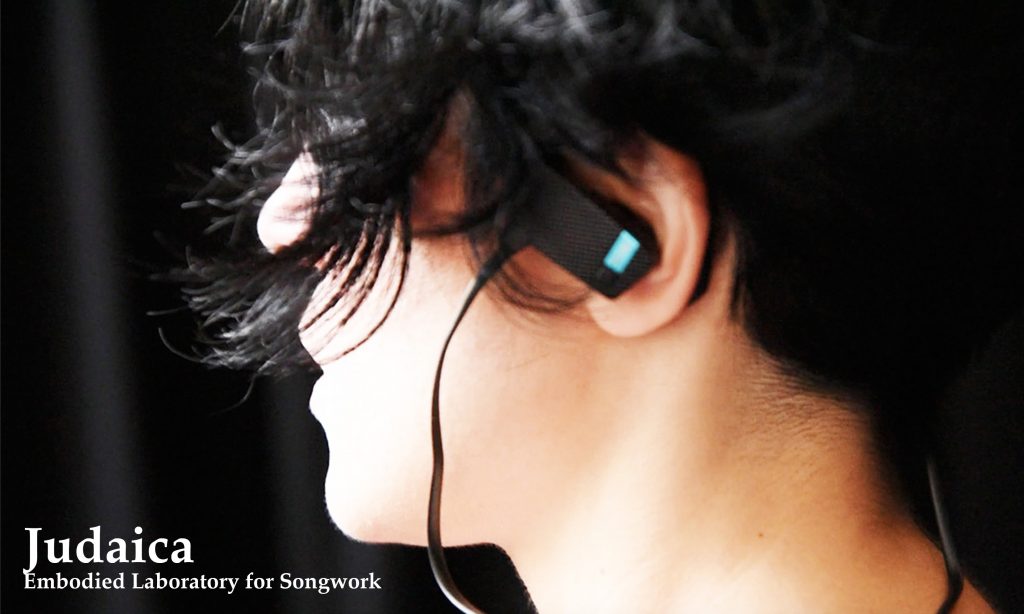 After four months of focused research, the Judaica trio presents a series of co-organized events in the United Kingdom, United States, and Poland.
UNITED KINGDOM
Thursday 31 August: Conference Presentation
'Molecular identities: Song as Philosophy in the Embodied Laboratory'
Theatre and Performance Studies Association
Theatre, Performance and Philosophy Working Group
University of Salford
Tuesday 5 September: Conference Presentation
'Democratizing Songwork: Collaboration in the Embodied Research Lab'
Democracy in Music Symposium
University of Huddersfield
POLAND
ŚWIĘTOKRZYSKIE REGION
7-8 and 11-12 September: Expeditions
Visits to synagogues in Chmielnik, Szydłów, Nowy Korczyn, Pinchów
in collaboration with Massolit Books, Kraków
WROCŁAW
13-22 September: Residency
Brzezinka and Na Grobli Studio
at The Grotowski Institute, Wrocław
Wednesday 13 September: Meeting
Meeting with Mira Żelechower
Friday 15 September: Concert
at White Stork Synagogue, Wrocław
20-22 September: Workshop
at The Grotowski Institute
Friday 22 September: Lecture/Performance
'What Is a Song? For an Ethics of Embodied Research'
19:00 at The Grotowski Institute
WARSAW
Saturday 23 September: Lecture/Performance and Discussion
18:30 Lecture/Performance
20:00 Discussion
at POLIN Museum, Warsaw
Sunday 24 September: Workshops and Video Screenings
10:00-15:00 Workshop
18:30 Video Screenings
at POLIN Museum, Warsaw
LUBLIN
Tuesday 26 September: Lecture/Performance
at Grodzka Gate – NN Theatre Centre, Lublin
KRAKÓW
Sunday 1 October: Full Day of Events
'Judaica: Bodies of Song'
11:30-13:00 Workshop
14:00-16:00 Video Screenings
16:00 Live Presentation
at Galicia Jewish Museum
UNITED KINGDOM
LONDON
Tuesday 3 October: Full Day of Events
'Judaica: An Embodied Laboratory for Song'
12:00-17:00 Video Screenings
13:00-15:00 Workshop
18:00-19:30 Lecture/Performance
20:00-22:00 Panel Discussion
with Yvon Bonenfant, Nwando Ebizie, and Shanti Suki Osman
at JW3 Jewish Community Center — click to reserve space
Wednesday 4 October: Research Events
'New Dramaturgies of Actor Training'
14:00-17:00 Workshop with MA/MFA Actor Training and Coaching
18:00-20:00 Research Seminar
at Royal Central School of Speech and Drama
Friday 6 October: Workshop
at Goldsmiths, University of London
UNITED STATES
NEW YORK CITY
Tuesday 10 October: Artist Exchange
9:30-3:30 with the International Interdisciplinary Artists Consortium
at Cave, home of Leimay
Tuesday 10 October: Panel Discussion
'The Body and the Book: Artistic Research in Today's Academy'
with Ximena Garnica, André Lepecki, and Katherine Profeta
NYU Department of Performance Studies
11-12 October: Workshop for Artists
Wednesday and Thursday 10:00-14:00
at Cave, home of Leimay
please click HERE to register
Sunday 15 October: Community Events
LABA Laboratory for Jewish Culture
at the 14th Street Y, NYC
Monday 16 October: Full Day of Events
'Judaica: For a Politics of Embodied Research'
13:00-17:00 Video Screenings
18:30 Lecture/Performance
at the Martin E. Segal Theatre Center, CUNY
co-hosted by SITI Thought Center
Tuesday 17 October: Laboratory Exchange
at Panoply Performance Laboratory
PHILADELPHIA
Wednesday 18 October: Full Day of Events
10:00-13:00 Workshop at The Whole Shebang
13:00-16:00 Video Screenings at The Whole Shebang
18:00-19:00 Lecture/Performance at FringeArts
19:00-20:00 Panel Discussion at FringeArts
with Fatima Adamu, Dan Blacksberg, Lela Aisha Jones and Ezra Berkley Nepon
moderated by Nicole Bindler
presented by The Institute for Somatics and Social Justice
co-sponsored by Jewish Voice for Peace Philadelphia

MIDDLETOWN, CONNECTICUT
Thursday 19 October: Full Day of Events
13:20-14:50 Guest Class with Pedro Alejandro
16:40-18:10 Workshop for Students
20:00 Lecture/Performance and Discussion
at Wesleyan University
BOSTON AREA
Friday 20 October: Workshop
with Jeffrey A. Summit
at Tufts University Hillel, Medford
Additional Boston area events TBD.
UNITED KINGDOM
CANTERBURY
Tuesday 24 October: Research Seminar
European Theatre Research Network
at University of Kent
MANCHESTER
Thursday 26 October: Full Day of Events
'Bodies of Song: For a Laboratory of the Humanities'
14:15-16:00 Workshop
16:30-18:00 Performance/Lecture
18:00-19:00 Discussion
19:00 Closing Reception
hosted by Centre for Interdisciplinary Research in Arts and Languages
at University of Manchester
---
---
PREVIOUS EVENTS IN 2017
14-15 January
Vocality/Instrumentality Conference
University of Huddersfield
17 January
Guest talk: 'Re-Reading Grotowski in the Anthropocene'
University of the Arts, Helsinki
26 January
Participation in Holocaust Memorial Day procession
Huddersfield, UK
25 February
Performance: 'Behold How Good'
ACTformance, Byram Arcade, Huddersfield
10 March
Guest presentation
Digital Echoes symposium
Centre for Dance Research, Coventry
13 March
Guest workshop
Granada Centre for Visual Anthropology
University of Manchester
23 March
Performance: 'Behold How Good'
Awkward Bastards at MAC, Birmingham
7 April
Research presentation: 'Future Documents: Songwork as Embodied Research.'
Joint SCUDD/NAMHE/DanceUK conference
University of Huddersfield
8 May
Guest workshop led by Colin Poole
25 May
Guest talk: 'Future Documents: Video Epistemology and Embodied Research.'
Spring Gathering, Knowing from the Inside ERC project
University of Aberdeen
8 June
Performance Studies International
Kampnagel, Hamburg, Germany
14 June
Popular Music Studies Research Group
University of Huddersfield
17 June
Guest presentation
Practice, Reflect, Share: Ways into Research
Stanislavski Centre, Rose Bruford College, Sidcup
23 June
Beyond Borders Seminar
Identity Papers Journal
University of Huddersfield
26-29 June
Laboratory guest: Dr Caroline Gatt
9-14 July
Annual meeting of the Embodied Research Working Group
International Federation for Theatre Research
University of São Paulo, Brazil
1-4 August
Laboratory guest: Elaine Spatz-Rabinowitz
Gallery of photographs
7-10 August
Laboratory guest: YARON band
Concert in St Paul's church on 9 August
14-17 August
Laboratory guest: Massimiliano Balduzzi
---
---
Special thanks for helping with these events goes to Joshua Abrams, Katie Adler, Robert Adlington, Pedro Alejandro, Paul Allain, Massimiliano Balduzzi, Julie Becker, Francesca Billiani, Nicole Bindler, Caroline Bithell, Peter Boenisch, Yvon Bonenfant, Rukhsana Browning, Franc Chamberlain, Ewa Chomicka, Rachel Cowgill, Fred Dalmasso, Scott DeLahunta, Nwando Ebizie, Ximena Garnica, Caroline Gatt, Gian-Murray Gianino, Michelle Goldsmith, Kalina Gotman, Kristine Healy, Tim Ingold, Andrew Irving, Bente Kahan, Frances Kay, Esa Kirkkopelto, Barbara Kirshenblatt-Gimblett, Katja Kolcio, Ada Kopeć-Pawlikowska, Dariusz Kosiński, Dominika Laster, Mike Layward, André Lepecki, Abigail Levine, Jodie Matthews, Jan Mazanka, David Miller, Roanna Mitchell, Izabela Młynarz, Ian Morgan, Shige Moriya, Ronit Muszkatblit, Esther Neff, Jacqueline Nicholls, Shanti Suki Osman, Josiah Pearsall, Frances Phillips, Kate Pitt, Colin Poole, Michelle Preston, Katherine Profeta, Nisha Sajnani, Peter Sciscioli, Sarah Sigal, Jill Sigman, Johannes Sjoberg, Barry Smerrin, Elaine Spatz-Rabinowitz, David Stallings, Adam Strickson, Kim Strickson, Shanti Suki, Jeffrey Summit, Aniko Szucs, Rupert Till, Paul Ward, Nancy Watterson, Drew Weinstein, Anna Wencel, Mira Żelehower, and Jan Żórawski.