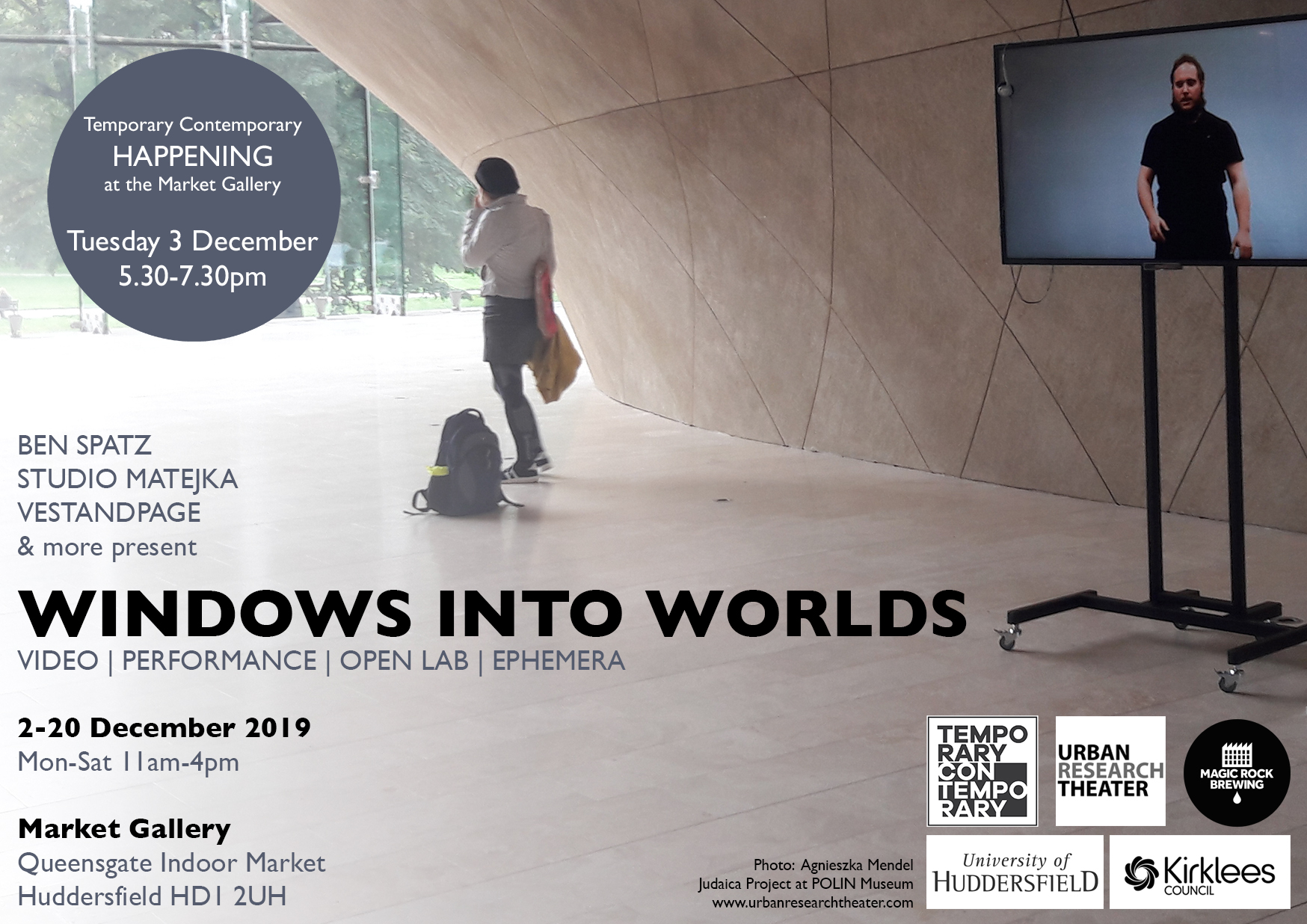 Windows into Worlds is an audiovisual exhibition and installation showcasing new connections between performing arts and digital video. It includes original artistic research from Dr Ben Spatz's Judaica project alongside contemporary performance-based films by VestAndPage (Germany) and Studio Matejka (Poland), as well as a growing network of performers exploring video lab methods. There is also an "Open Lab" space where the public is invited to explore embodied audiovisual creation.
Download the exhibition program HERE.
The first iteration of Windows into Worlds will run from 2-20 December 2019 at the Temporary Contemporary Market Gallery in Queensgate Market, Huddersfield (UK). There will be an opening event with Odeya Nini on Tuesday 3rd and a featured artist talk with VestAndPage on campus on Wednesday 11th. This version of Windows into Worlds is supported by the School of Music, Humanities, and Media and the School of Art, Design and Architecture at University of Huddersfield.
Windows into Worlds was developed in collaboration with:
• Rowan Bailey (UK)
• Lxo Cohen (UK)
• Cara Hagan Gelber (USA)
• Claire Loussouarn (UK)
• Elizabeth de Roza (Singapore)
The following theater and dance companies are currently working on the Windows into Worlds exhibition project. Please get in touch if you would like to join a growing network of performers exploring video labs.
• DansPXL (Spain)
• Instabili Vaganti (Italy)
• Leimay Ensemble (USA)
• Make, DO Theatre (UK)
• Parcon Resilience (USA)
• Slippage Lab, Duke (USA)
• Studio Matejka (Poland)
• Sweet Sensation (UK)
• Tatyana Tenebaum (USA)
• Threadbear (UK)
• TONYC (USA)
• USC MFA Acting (USA)
• VestAndPage (Germany)